INTRODUCING
Acne Be Gone
Acne Be Gone by Balance Blends is an exclusive combination of herbal extracts and modern-day supplements. It works by balancing your body's oil production and reducing inflammation from the inside out. Moving and recalibrating imbalanced Qi (aka energy) to heal acne is one of the best ways to get rid of your acne naturally.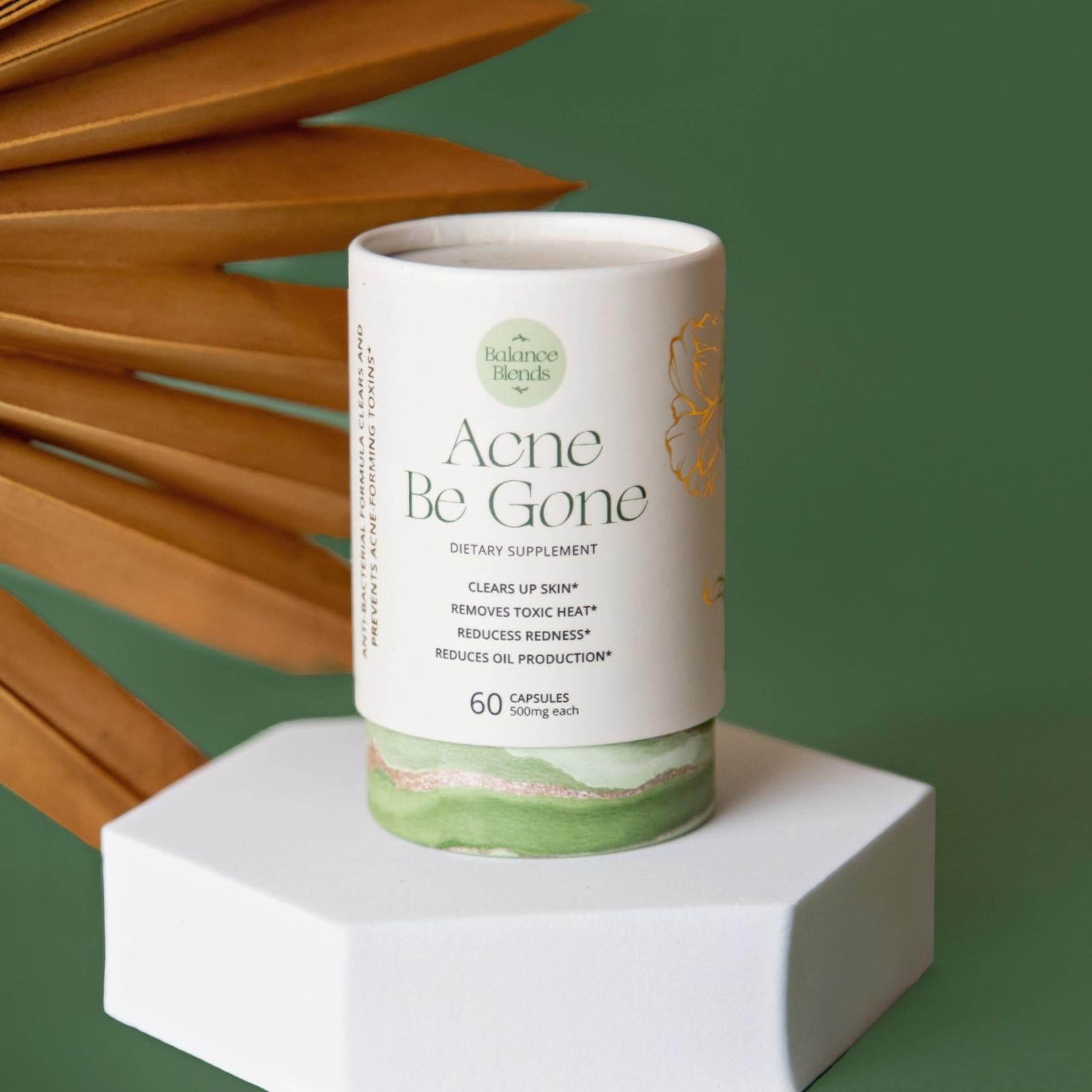 Natural acne treatment for busy humans
You don't have the time (or patience) to test out a million products on your already sensitive skin. But you don't want to wrestle with an annoying pimple before a major work event or a big date, either.

Our thoughtfully-crafted blend combines the best herbs for acne traditionally used in Eastern medicine with western supplements to restore balance within your body to heal acne for good.

Give your skin the support it needs to battle acne-forming bacteria and regulate oil production naturally.


Benefits:
Clears up your skin
Reduces inflammation and redness
Removes Toxic Heat
Rebalances oil production without drying out your skin
Custom blended to target acne-causing imbalances
While most supplements contain a single herbal extract or compound in powder form, we realize that many imbalances in your body can cause acne.

The Acne Be Gone blend contains multiple concentrated extracts of the most powerful (and tested) herbs in traditional Eastern medicine, as well as vitamins and amino acids. These compounds work together to create a ripple effect of healing in your body that leads to smooth, hydrated, and acne-free skin.


How does it work?
The magic is in the carefully selected ingredients
1.
L-Carnitine
and Pantethine (a Vitamin B5 derivative) check oil production to prevent non-cystic acne.
2. Lian Qiao (Forsythia Fruit) has antibacterial properties and reduces heat (inflammation).
3. Chai Hu (Bupleurum) improves the liver meridian system related to skin health.
4. Rehmannia Root cools down your body and improves its ability to fight acne-causing bacteria.
5. Oldenlandia and Violet fight acne-causing bacteria and clear toxic heat.
6. Gardenia Seed helps reduce inflammation and clears excess heat from the body.
7. Red Peony Root improves circulation and removes excess heat from your blood.
8. Skullcap Root clears damp-heat.
9. Moutan Root Bark, like Red Peony Root, removes excess heat from your body.
love notes from our customers
"I've been struggling with cystic acne since puberty. I am by most people's standards considered a 'health freak' but even that wasn't enough to clear my skin. I've been to the most expensive/prestigious dermatologists and endocrinologists around the US and NOT A SINGLE ONE OF THEM was able to cure me! I can't thank you enough for the beautiful, acne FREE skin that I am now able to wake up to every single morning. My fiance can't stop complimenting my skin because it is now even beyond normal people's standards of clear."
Let's rebalance your body from the inside out
Balance Blends Extrapolents™ are ideal for you if you're done experimenting. You're doing everything you can - meditations, workouts, eating right - to heal your body and mind, but you realize something's missing in your routine. You're in the right place - our custom-blended supplements can give your body the inside-out healing it needs to target specific symptoms.
EXPLORE THE FULL COLLECTION
Holistic health care should be empowering, not confusing.
This core belief drives our founder Dr. Colette Wildrin to create revolutionary blends.
Dr. Colette is a licensed acupuncturist in Beverly Hills,
skin health coach
, and clinical herbalist with 10+ years of experience treating various skin and physical health issues. Based on her experiences, Colette realized that our body craves synergy, which means imbalances on the inside stubbornly show up on the outside - as stress, acne, sleeplessness, fatigue, you name it.
She believes in bringing the best of both worlds - Eastern herbal extracts and Western functional medicine - to help you bring healing and balance back to your body.
GOT A QUESTION?
You may find the answer in our
our FAQs.
If not, feel free to email us at
info@balanceblends.com